By now, you've probably all seen the completely bizarre and inexplicable video of celebrity has-beens lip-dubbing "Let it Be." If not, please allow me to introduce it to you:
I think the response the creators are going for is of warm nostalgia and amusement, seeing all of these familiar faces from our near-to-distant pasts. In reality, the response of most people is one of sadness and/or scorn - look at how horrible most of them look! And look at how fucking cheesy they still are!
(It should be noted that these actors were almost certainly told that they were lip-dubbing for "a good cause," and didn't choose to humiliate themselves for some Norwegian show that nobody watches.)
One of the faces in particular, looming in at 02:58, agitated me to no end. That man is Judd Nelson, Brat Pack bad boy extraordinaire, looking like a damn rabbi.
A damn sad rabbi.
That old man was one of the stars of The Breakfast Club. Mull that over for a second. The Breakfast Club is arguably one of the most pervasive movies from the past quarter-century, and is certainly one of the most influential as far as teen movies go. It is also just a load of bollocks. I have tried multiple times now to see and appreciate what thousands of young adults and teenagers find so lovable about this movie, but a few things keep sticking in my craw.
1) The princess's romantic choices
Popular Claire and Lowlife Deadbeat Bender have, shall we say, an antagonistic relationship. She thinks he's scum, he thinks she's a princess, and they butt heads for the whole movie. During the last few scenes, however, we are stunned to see Claire visit Bender in a broom closet (which is just a story I don't even want to go into) for some sweet lovin'. So it was just sexual tension all along! Teenagers are so adorable!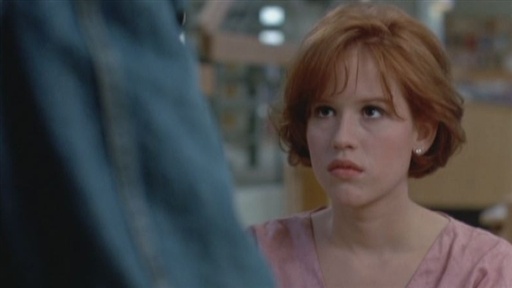 Whatever he's saying, she is diggin' it.
Except no. Bender wasn't just a run-of-the-mill asshole who says what everyone wishes they had the courage to say, or something. I mean, here's what he did to poor Claire: called her fat, mocked every comment she made, "jokingly" threatened to impregnate her, and actually sexually harassed her under a table. And we're supposed to feel sorry for this misogynist douchebag because his dad and principal abuse him? I'm not gonna say he deserves to be smacked around by his dad, but now the idea is in your head, so we're moving on.
2) The jock's sociopathy
Another person we're somehow meant to feel sorry for is Andy the Jock. Like most movie jocks, Andy hates his dad with the fire of a thousand suns (and, like most movie jocks, portrays this burning hatred with a raised voice, a furrowed brow, and no actual emotions). This hatred for his dad expresses itself in unusual ways; namely, taping a classmate's ass cheeks together. And I'm not the one attributing deep psychological connections between dad-hating and ass-taping - the movie does it for us. In the end, he doesn't say "I regret humiliating and physically hurting Larry Lester." He says "I wish my dad didn't push me so hard." And his ridiculous comrades absolutely accept this as a reason for ripping the skin off another person's body. He even gets a girl! A girl willing to change everything about her personal style so he could make incoherent comments about how nice she finally looks!
3) The janitor's origins
Carl the Janitor is one of those janitors you only ever find in movies and t.v. shows. He knows everybody's business and calls people on their shit, but he's generally a nice guy. He gives a brief but eloquent speech about how easy it is for him to spy on students, since they barely acknowledge his existence. We even get to learn a tiny bit of his backstory, when he says to the principal that he "wanted to be John Lennon" when he was a kid.
The rest of his backstory, however, is just depressing as hell. You see, in the title sequence, we get this little shot:
And what dapper men they are.
What the hell happened in Carl's life that he went from Shermer High's Man of the Year to Shermer High's Custodial Worker of the Past Eight Years? I know it's supposed to be this ironic little flip that should "make you think," but if you actually do think about it - think about exactly what kind of personal and financial horrors Carl must have suffered to make returning to his high school as the janitor seem reasonable - you can't be happy for the rest of the day.
4) The nerd's suicidal depression
It would be a great understatement on my part to say that Brian, the nerd, is not taken very seriously. He's teased or scoffed at for most things he says and does, including: being smart, having the name Brian, having a fake ID so he can vote, and being a virgin. By the end of the movie, when the students have all ostensibly learned a great lesson about stereotypes and how misleading they can be, the students have all changed their opinion of him and shower him with the affection and respect he deserves.
Brian for Prom King!
Just kidding! They make him write their assigned essays, and leave him to give himself a pathetic little bump on the shoulder. So, he's basically exactly where he started. But it gets worse.
It turns out that Brian was in detention for bringing a flare gun to school and accidentally setting it off in his locker. What was that little nerdling doing with a flare gun? Trying to kill himself with it, because he was going to get an F in shop. The other teens find this just hilarious - Brian is so inept that he tried to kill himself with a flare gun! What a riot! The flare gun part is slightly funny, I guess, but they just completely ignore the fact that Brian tried to kill himself. They're laughing at a kid who just told them he's suicidal, and then they just never talk about it again and go back to treating him like shit.
These items aren't elements of a teenage tragi-comedy. They're elements of a damn horror movie - yet this one film, more than any other in John Hughes' melodramatic oeuvre, is revered to this day. What the hell gives?